How to Increase E-Commerce Sales with Better Product Reviews
Published On March 15, 2019 - by
Admin
Society is no longer a stranger to the convenience of online shopping. However, in the endeavor to grow and outperform competitors, most businesses seek the answer of – how to increase e-commerce sales. As marketing strategies are getting bolder, and ideas are getting more streamlined, the world of e-commerce is rapidly evolving to keep up. This raises the questions again – how Everyone who is anyone has an online profile of some kind. Local suppliers, though still preferred, are no longer always necessary.
Boundaries are ever-shifting for what you can purchase; whether available in your country or not. Though access and speed are the names of the game; quality as always is still king. In this world of computerized orders and payment, how does one judge quality? In most cases as a consumer, we look at images on a computer screen.

It all comes down to e-commerce product reviews and the importance of these reviews for businesses.
In many cases, this is what makes or breaks a prospective sale. Advances in economics and business show that "85.57% of the participants stated that they read reviews often or very often" before they purchase online.
Money may talk, but positive reviews talk louder.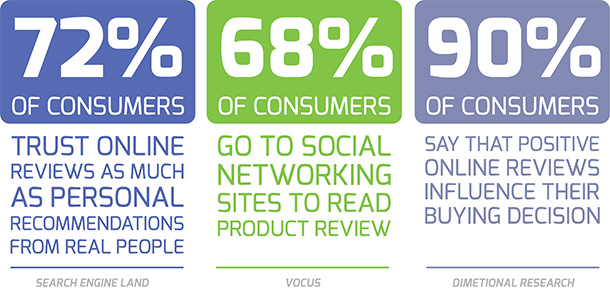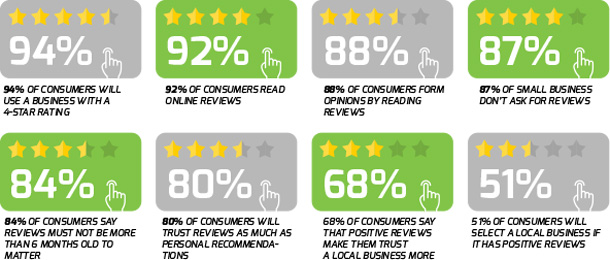 How Product Reviews Work for Business
The main question that always comes to mind is, "How can I increase e-commerce sales?" The value of reviews in e-commerce is of the utmost importance when striving for success.
Consumers are likely to spend 31% more on products/services from businesses that have excellent reviews.
86% of consumers read reviews for local businesses (including 95% of people aged 18-34).
A negative review can drive away 40% of potential customers.
Bottom line: obtaining customer reviews and making them work for you is key. Otherwise, You May Find Yourself Dealing with Negative Online Product Review Implications!
There are many ways a business of any size or nature can suffer from negative reviews. These remarks can leave cracks in any veneer and, in many cases, take huge efforts and time to correct.
Prestige/ Reputation

The basis or perception of a company's achievements is something that every business owner holds high. Every detail from their company colors, the face is seen by the public, and the products they offer are all tailor-made to create a very specific 'look' for that company. It's frightening to think that all this attention to detail could come crashing down by just a few negative reviews.

Growth

A known fact is that if your business is thriving, it will grow! You will receive more clients and customers, you will make more sales, and your profit margins will shift. If your company is on the right track, these are all things that will come in time. These are also things that can be seriously hindered by negative reviews. A customer will be far more hesitant to assist in your company's growth if they only hear bad things about you!

Trustworthiness

With little to no direct human contact with a company, how can a client be expected to trust what you are offering? Everything ties in together. If a company has a decent reputation and strong positive reviews, the public will have no reason not to trust what you are offering. But what if that is not the case? If you do not come across as a reputable company, you will not be treated as one.
At the end of the day if a company does not provide what they promise to potential customers will leave, no matter how amazing the offered product is.

Ways You Can Get Better Product Reviews
Improving the way your business does things comes down to a few simple steps. Look at it as a to-do list and consider the following to truly reap the benefits of online product reviews:
Put your reviews and reviewers front and center

Get on the same sites as your customers. If you want to catch a fish, you need to throw your bait where the fish are! Follow up with your buyers. People love a personal touch. Following up on their experiences and getting feedback goes a long way to making someone feel valued as your client.

Ask the right questions

Acknowledging the right things canacc make your company look experienced and knowledgeable.

Contact your reviewer as soon as possible

Prompt response times can make a huge difference in how a situation pans out. Make your mobile site friendly because everyone is on a cell phone these days. It has become our comfort zone, and a comfortable customer is a happy customer.

Get more reviews on expensive products

When you get positive reviews on these items your chances for selling them more often increase. Get reviews for products no one wants to review, the more reviews your company has the better your chances.
A Hand Stretched Out to Get You There
At Data Entry Outsourced, we have the inside view on successful product reviews. Using years of expertise in e-commerce product data entry and the first-hand knowledge gained from it, we can ensure website data accuracy, detailed online product descriptions, and more. Our business is to make your business look as good as possible! We understand why product reviews matter and that climbing the rungs in this fast-evolving world can be difficult, which is why you need a capable professional to give you the nudge you need.

If you find yourself needing to understand better how to increase your online sales conversion rate, just give us a call or contact us via email and let us show you how to commence your successful future in e-commerce!
– DataEntryOutsourced
Disclaimer:All the product names, logos, trademarks, and brand names are the property of their respective owners. All the products, services, and organization names mentioned in this page are for identification purpose only and do not imply endorsement.