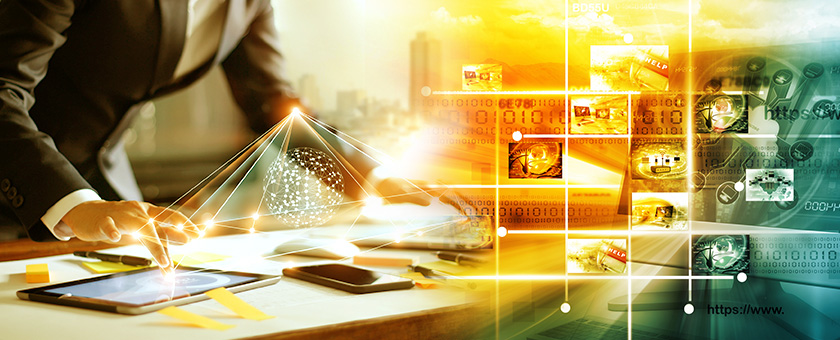 Master Data Management for Small Business and Large Corporations Alike
Published On May 05, 2019 - by
Admin
Now a widely adopted procedure, MDM or Master Data Management has come a long way since it was first introduced over a decade ago. In 2004, businesses worldwide reached a ground-breaking conclusion; that there was a simpler way to store and present critical data.
Due to MDM benefits, this revolutionary method not only enabled companies to organize, categorize, and localize their master data according to the business rules of the sales but also concentrate on the marketing and operational strategies for their specific needs. Because of this, its popularity grew quickly through IT companies and corporate businesses alike.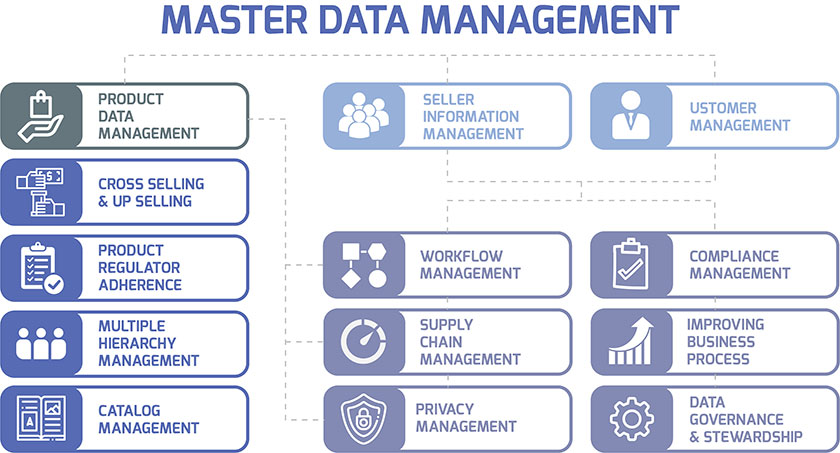 By eliminating costly inefficiencies caused by data silos as well as unreadable or inaccessible stored data, MDM supports a company's business initiatives allowing for a less cluttered more streamlined approach. So, it was only natural that this would be the next evolutionary step in business, particularly in large organizations, highly data distributed organizations and those that have frequent or large-scale merger and acquisition activity.

The Concept Behind Data Quality and Master Data Management
In the business industry, master data management is a cutting-edge method used in defining and managing the critical data of an organization to provide and integrate data to a single point of reference. This is accomplished by identifying the different types of data which is then followed by analysis and accurate management thereof, and finally, storage and distribution throughout an organization to ensure a common understanding.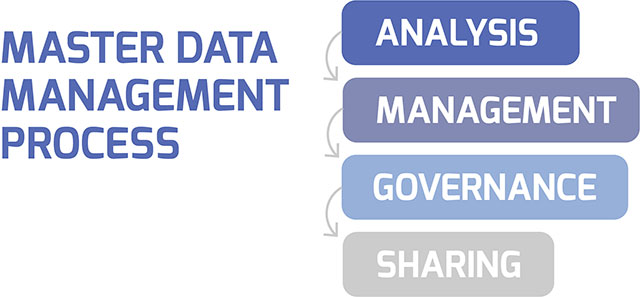 When executed correctly, this can improve data quality, while also allowing for data sharing across any personnel and departments throughout a company. Also, MDM facilitates computing through multiple system architectures, platforms, and applications. By concentrating on fundamentals like Customer Data, Product Data, Asset Data, and Employee Data companies can quickly and deeply understand business relationships. For example, customers, prospects, suppliers, and partners and then leverage that information across the organization.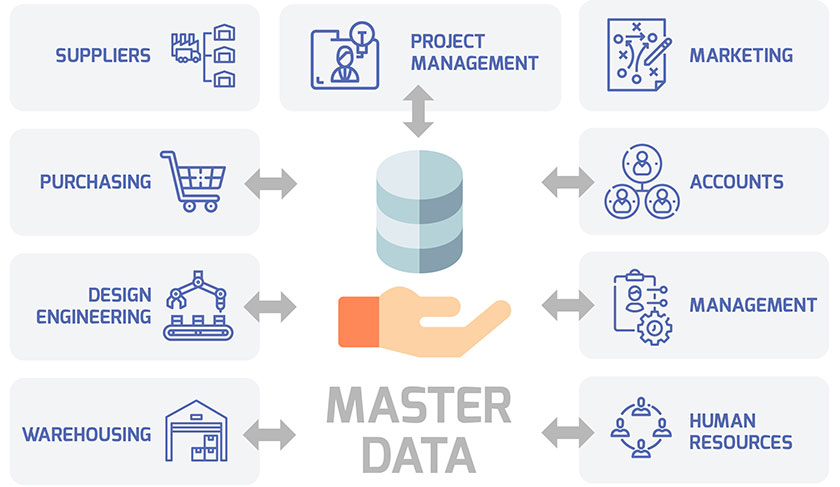 In the fast-paced, ever-changing and ever-expanding modern business environment, adequate master data management is becoming more and more of a necessity. This need only increases as companies expand and diversify. This is especially beneficial in cases like Government Organizations, Data Entry Specialists and even health specialists and hospitals.
Industry Applications of Master Data Management
Because of the diversity of this process, there are numerous ways that it can be applied in business and those applications are only increasing with each use.
Logistics
A great example of this is in the logistics industry, because of the high demands in each delivery coupled with the pressures of traffic, distance and whether these companies need to maximize efficiency wherever they can. MDM is capable of providing exactly that by collecting and identifying their mass data (customer details, delivery specifications, locations, costs) and integrating it into a global access point, therefore, supplying quick access to the information that counts.
Aviation
In the aviation industry, MDM solutions are perfect in connecting streaming data generated from the engines that power flights around the world. Since the aircraft tail number and engine position help identify the engine's performance data, MDM can relate the tail and position of the plane to the engine serial number (ESN). Therefore, in a click of a button, flight management teams can ascertain exactly what is happening with any given flight at any time.
Oil & Gas
It is no exaggeration that the oil and gas industry goes a long way in powering the world as a whole. In most cases, wellheads are the most valuable assets of these companies. When used correctly, MDM helps these organizations create a cross-enterprise instance of wellhead master information. It captures and manages the relationships between the wells, equipment, employees, and sites, allowing for a smoothly run operation.

MDM system allows us to store all the master data at a single place, and every other department collects its data from MDM, so in other words, MDM becomes the source of master data for all the departments whoever wants to use it.
Leading Tools in Master Data Management
When using MDM, there are numerous tools designed specifically to assist a company in obtaining the best results possible. A few of the leading examples include:
Informatica MDM Reference 360
Designed to empower business users this MDM software provides user-friendly and configurable dashboards that help control the quality of reference data sets and govern the complete reference data lifecycle, by facilitating business self-service for the most demanding initiatives in every industry.
Core Features include:
Cloud Capabilities
Business Process Management
Data Security
Dell Boomi
Acquired by Dell in 2010, this software specializes in cloud-based integration, API management, and Master Data Management services. Beginning with "configuration-based" integration. This Technology allows users to build and deploy integration processes using a visual interface and a drag and drop technique.
Core Features Include:
Simple Browser-Based User Interface
Cloud Capabilities
AtmoSphere visual, click interface for building integration

SAP Master Data Governance
This MDM solution specializes in enterprise application software and provides domain-specific MDM as well as collaborative and pre-built workflows.
Core Features Include:
Built-in data governance based on pre-configured data models
Data cleansing, including profiling, standardization, matching, and enrichment
Role-based user interface
Orchestra Networks EBX
This MDM software offers a variety of solutions to help organizations manage their data assets through its EBX platform. It covers multi-domain master data management, reference data management, data governance, hierarchy management, and taxonomy management.

Core Features Include:
Integrated data quality capabilities for profiling, cleansing, validating and matching data
Real-time and batch integration options
Flexible data modeling
When it comes to creating a data management system, it will always be advantageous to find a solution that can mold to your company's needs.
Benefits of Master Data Management

With a comprehensive Master Data management implementation, companies can quickly and deeply understand business relationships, implement timely decisions and actions about those relationships to increase efficiency that both grow and protect the business. The key benefits of master data management include:
Improved efficiency

By eliminating problems like unreadable or inaccessible data, your workforce has fast, reliable access to any needed data at all times. This greatly speeds up productivity come crunch time.

Eliminate poor quality data

By consolidating your data in one place, all stakeholders have access to the most up to date data.

Improved decision-making

Combining your data in the one place allows for better insights into your requirements.

Superior regulatory compliance

By organizing your data in a professional, centralized way it is easier to keep track of what you actually have and that it keeps with any compliance laws applicable.

Effective Prioritizing

This software allows for a unified view of strategic customer relationships, further improving key business decisions.
Making the Right Decision for the Future of Your Company
In today's fast lane, master data management could not be more vital to any businesses. You need to stay on top of what is happening in your company, and this can only really be achieved by keeping a healthy tap on the mechanics (data). With incorporated capabilities like sophisticated tools that understand nicknames, alternate spellings, typing errors, and data repetition or systems that effectively enumerate the various master data entity types at the click of a button one could say this process could very well be the key to a fecund future.

At Data Entry Outsourced (DEO), we understand that data management is the basis of a successful business. We insist on finding the right professionals to work with us to provide you with every benefit afforded through MDM services including uncompromising quality standards and processes at every stage of a data entry project.
Our professionals are always available at the most affordable costs, with the capacity and flexibility to handle any volume of data enhanced with over a decade of experience in data management services.
So, if you need MDM services and don't want to deal with unnecessary hassles and master data management implementation cost do not hesitate to reach out to us using the contact details found on our website, and let one of our professionals guide you to a more streamlined solution.
– DataEntryOutsourced