Data Entry Outsourcing Streamlines More than Costs
Published On May 15, 2019 - by
Admin
What is data entry outsourcing? Data entry is essentially the entering of specific data into an electronic device via specific software, often done by data entry operators, who have specific knowledge regarding data entry. Occasionally, in the conversion of important information, precise skills are required, which is why data entry is often outsourced to skilled professionals.
Many industries are served by data entry outsourcing, including telecoms, who have much customer data to maintain to retain and gain customers, optimize their investments access resources and manage cost pressure. In telecoms, data entry services can include porting support, the fulfillment of orders and account management among others.
Almost all other industries such as logistics, healthcare, real estate, banking, law and jurisdiction, and e-commerce also make use of data entry services.
What Is Data Entry Outsourcing?
The act of transcribing either written documents into digital data or one type of electronic data into another, data entry can be used for various types of data, including legal or medical records, names or addresses or a multitude of other types of data.
Who Needs Data Entry Outsourcing and Why
Organized, error-free data can be the key to accelerating the growth of a business, but unfortunately, maintaining data on a daily business can be tiresome. Data entry can easily become repetitive and time-consuming, and can often become neglected in the face of other business tasks. Similarly, maintaining an in-house data entry team can also be stressful and time-consuming, leaving no time for other core business activities.
Data entry outsourcing gives companies access to accurate data at a much lower cost while leaving them free to focus on more important business activities.
Data Entry Outsourcing – Cost vs. Benefits
Labor Expense
Nowadays, businesses need to offer competitive salaries to acquire competent and skilled staff. One of the most significant operational costs associated with doing business, labor expense can be greatly decreased by outsourcing business tasks such as data mining, data entry or data processing services to an external company.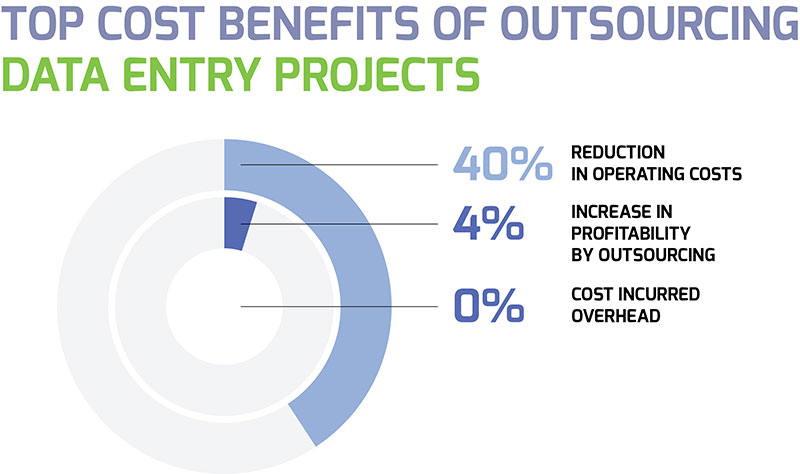 Capital Expenditure
Not having to maintain an in-house team to complete specific tasks can help a business to cut down on expenses. For example, should a company wish to run an internal data entry division, brand new technology and equipment must be invested in, and staff must be hired, trained and maintain. Outsourcing data entry to an external company can help to decrease capital expenses while still providing the company access to expert data entry services.
Recruitment Expense
Hiring and training additional staff can be costly, and by outsourcing data entry, the energy and expense needed for recruitment are not needed. Should you not be hiring additional staff, the extra workload for current staff can become unmanageable, decreasing morale, and hinders company development, so outsourcing paves the way for prosperity.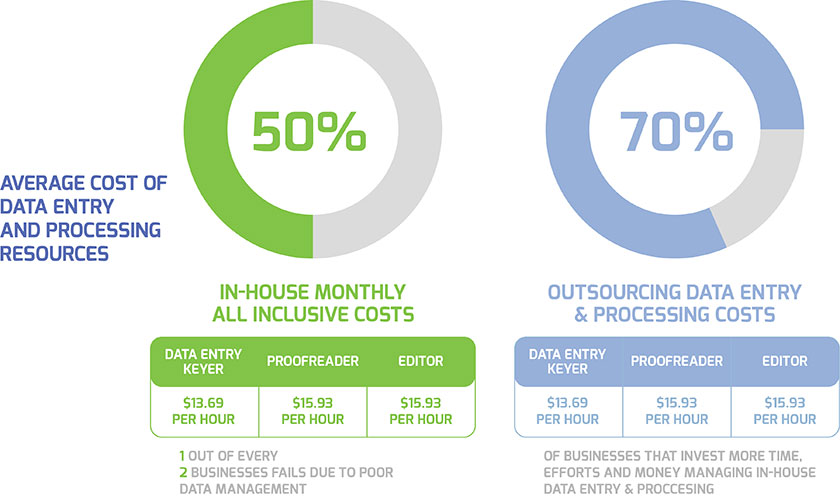 Operational Expense
A major aspect of any business, operational expenses cannot be ignored. Up-to-date technologies and systems must be utilized to make sure of superior products, and outsourcing can help to cut down on the operating expenses for those tasks. Keeping operational expenses minimal can further improve company profits and pave the way for further development and growth.
Benefits of Streamline Data Entry Outsourcing
Types of Data Entry
Data Entry Keyer In data entry keying, the worker receives items, numbers and other data, such as data from cheques or licenses, which is then entered into the computer software. This is then checked for mistakes or missing information. The worker may also search for info among several documents. No formal training is required for this kind for this position, and employers provide constant on-the-job instructions.
Word Processor or Typist Entering data which is used to create reports, mailing labels or letters, the word processor or typist must be good with grammar, punctuation, and spelling. Also required to format and proofread texts, the word processor or typist may also need to work on technical information and make use of statistical data to create tables, graphs, and charts. No formal training is required for this position, and most skills are acquired on the job.
Transcriptionist Typing data into reports or other documents as they listen to recorded dictation, transcribers must have good typing speed and a good sense of grammar. Transcriptionists can often find jobs in medical or legal firms and must have formal transcription training from a vocational institute.
Data entry clerks Data entry clerks are responsible for entering information into a database. Many companies offer data entry services to their clients, and so many people can make data entry their full-time position. Fast and accurate typing skills are a must, as well as attention to detail and the ability to focus on the data and identify mistakes.
Online form filling This data entry position entails completing online forms with the specific information provided. Usually outsourced by competitive market companies who wish to appear at the top of internet search lists, online form filling positions often pay high salaries.
Benefits of Streamline Data Entry Outsourcing
Quality outcome of services: well-trained, competitive and professional outsourcing employees help to ensure faster company growth by providing excellent services.
Security: quality outsourcing companies make use of reliable software and tools to ensure the safety and confidentiality of client information
Reduced operational costs: data entry outsourcing can help businesses save up to 70% of their payroll costs without sacrificing the quality of service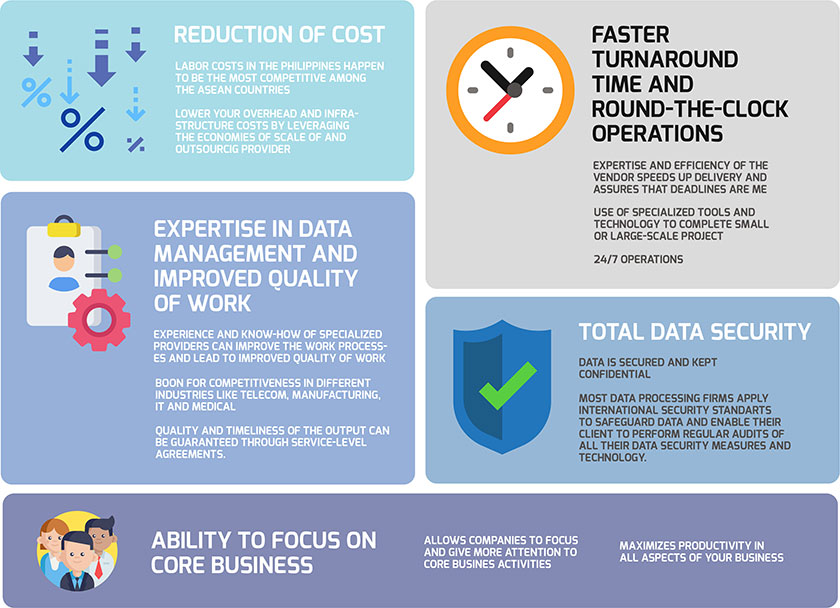 Global Data Entry Outsourcing Market Overview
By 2023, the market size of global data-entry outsourcing services is projected to reach $1.7 billion, expected to maintain a CAGR of 4.65%.
How Various Industries Benefit from Data Entry Outsourcing
Banking, Financial Services and Insurance (BFSI)

With the rising cost of labor and need for accurate information, outsourcing has benefitted the BFSI industry with services such as account opening forms, pay slips, data entry checks and other digitization of records

Information Technology

Many IT companies outsourcing the organization of paper-based documents for the capturing, storing and retrieval of critical information, improving customer satisfaction processes and reducing instances of lost documentation.

Telecom

Many telecoms outsource data entry to capture the relevant information from contracts and agreements or bills to be entered into online databases.

Manufacturing

Many manufacturing companies outsource data entry for planning documents, receipts or invoices to free up internal resources to focus on more value-creating tasks

Healthcare

Hospitals and other healthcare facilities generate large amounts of data, including specifics about patients and their treatments, account information, billing, diagnosis and doctor's remarks and many other pieces of information. Benefits of streamline data entry for healthcare include the proper digitization and management of this sensitive data.
Data Entry Outsourcing Relevance to Geographical Region
Asia Pacific
The APAC region is set to lead the data entry outsourcing market in the 2019 to 2023 period according to market analysis. India has emerged as an outsourcing powerhouse, with very few weaknesses in the Indian outsourcing market. China too is an emerging outsourcing provider with the primary benefit of outsourcing to China being lower costs, with the drawback of there being fewer English speakers. The Philippines still holds a rank in the top five global outsourcing destinations, second to India, with Pakistan a new entry into the top five. Brazil is also a high-profile global outsourcing destination.
South America
South America is set to account for the highest growth in the data entry outsourcing services market throughout the forecast period from 2019 to 2023

Choose to Outsource Data Entry for Increased Productivity and Revenue
The benefits of streamline data entry are numerous, and outsourcing data entry services allow for proficient data management by digitizing data and making it readily available for easy analysis, as well as time and cost saving, flexibility to manage varied workloads and total data security.
With more than a decade of experience providing a range of data entry outsourcing services to clients across the globe, Data Entry Outsourced provides the highest quality and accuracy to every project, complying with outsourcing best practices and ensuring complete confidentiality.
– DataEntryOutsourced